2. Decembris 2010
Cleanhouse is nominated for Efficient Management of the Year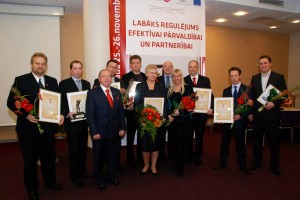 At Effective Management of the Year 2010 organized by the Confederation of Latvian Employers and the State Chancellery, Cleanhouse was appreciated as one of the companies that implement efficient management.
Kristaps Drone, Member of Cleanhouse Board of Directors, emphasizes:"Such recognition is great honour, especially because in opposite to many other competitions and "awards of the year" companies didn't applied themselves for this one. Instead they were nominated by organization related to the entire private sector in Latvia. It means that our contribution in achieving business efficiency has been noticed and recognized outside the collective of our company."
This year, nominees in the category of state administration were: the State Labour Inspectorate and the Ministry of Welfare of the Republic of Latvia; in the category of most efficient local authority – District Councils of Marupe and Madona, and Liepāja City Council. In the category of the most efficient companies were nominated: company of transport and logistics services Kreiss, bread and pastry production company Hanzas maiznīca and professional cleaning and management company Cleanhouse.
At the first stage of competition, candidates for the Award of the Year in each category were nominated by national level organizations representing the respective sector. In the state sector, nominees were chosen by the State Chancellery, in the local authorities sector – by the Latvian Association of Local Authorities, and in the private sector – by the Confederation of Latvian Employers in collaboration with Lursoft. At the second stage, nominees were assessed by competent expert panel constituted by representatives of the State Chancellery, Latvian Association of Local Authorities, Latvian Association of Large Cities, Latvian Association for Quality, Financial and Capital Market Commission, NASDAQ OMX, economic researchers and other business partners.